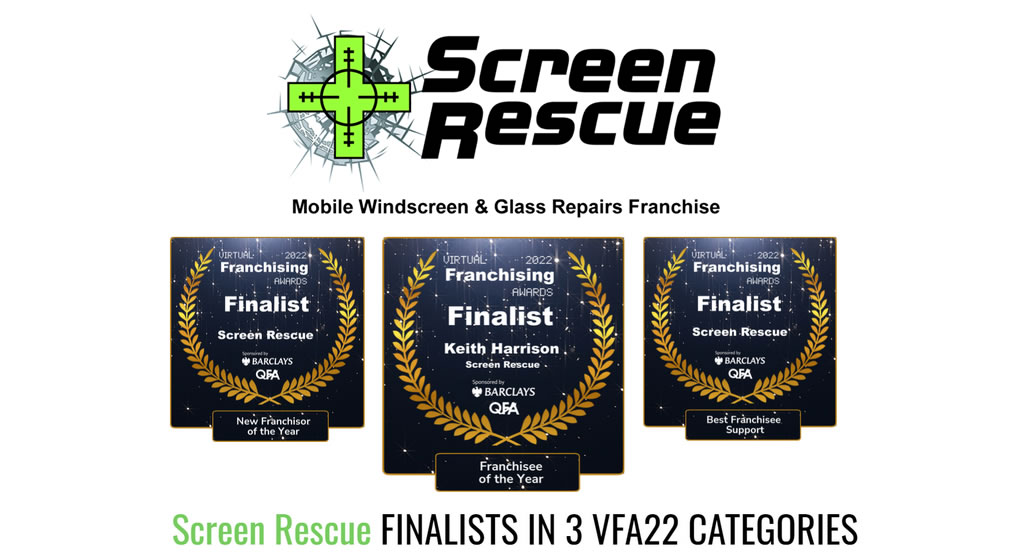 Franchisor and co-founder of Screen Rescue, Jaime Hilario is deeply honoured to share the announcement that Screen Rescue franchise has been shortlisted as finalists in three #VFA22 Award Categories, as sponsored by #Barclays.
As this exciting news drops, Jaime Hilario, franchisor and co-founder of Screen Rescue – the only windscreen and glass repair franchise to operate exclusively in all sectors of the Commercial Automotive Industry, said:
"It is my absolute pleasure to announce the very exciting and exceptional news that our franchise has been shortlisted from a long list of extremely accomplished franchise brands, as finalists in the following three categories:
'New Franchisor of the Year', 'Best Franchisee Support' and for Keith Harrison, franchisee of Screen Rescue Stevenage, he has been shortlisted as 'Franchisee of the Year'.
"We were genuinely taken by surprise to learn we had become finalists in not one, but three award categories of the Quality Franchise Association's very own QFA VFA22 Awards as sponsored by #Barclays.
"The QFA's mission is to promote ethical franchising and encourage franchising for all," continues Jaime, "therefore we are deeply honoured to be amongst such worthy finalists in all three categories of these prestigious VFA22 awards."
Now in their second year of running the VFA awards, the QFA is firmly established as the leading franchise association who put their members first. The VFA awards are recognised as something quite special across the franchise world; they celebrate franchise brands who provide exceptional service to their franchisees and to the industry.
"I am proud to share this news with Screen Rescue employees, our franchisees and technicians who work hard to maintain the quality standards of our proven franchise model and operations. It is because of the combined efforts of each one of these VIPs – as I see them – that we have managed to achieve such an honourable accolade three times over.
"As franchisor of Screen Rescue, I personally congratulate all of their team efforts on becoming finalists as we are shortlisted alongside some hugely outstanding and worthy franchise brands. To celebrate this proud moment, we shall be attending the VFA22 virtual awards ceremony in late January 2022 and here, at Screen Rescue, we are all winners in my eyes. This is one huge milestone for our growing network and we have more exciting news to announce throughout 2022. Congratulations to you all, and all the best for the journey ahead."
To learn more about becoming a Screen Rescue franchisee, why not contact our friendly team, complete the 'Contact Us' form and we'll send you our latest Franchise Prospectus.