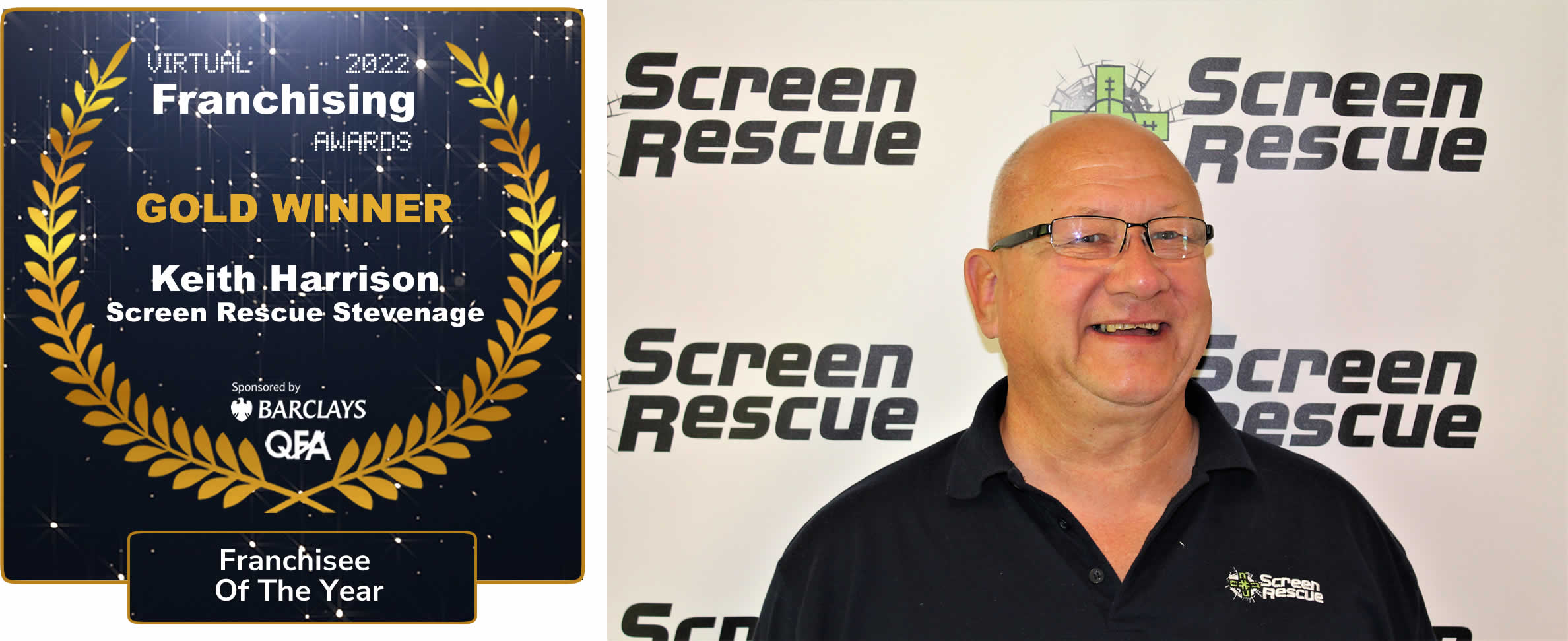 What a big day it was for Screen Rescue as January 2022 came to a close, when the VFA22 Virtual Franchise Award winners, sponsored by Barclays were announced.
Franchisor, Jaime Hilario said, "We are absolutely delighted to become an Award-Winning Franchise and are still a little overwhelmed to have picked up not one, but two highly celebrated VFA22 Awards: a GOLD WINNER and SILVER WINNER in two of the most prestigious VFA22 Award categories: Franchisee of the Year and Best Franchisee Support.
"Our wholehearted congratulations first go to our very own Screen Rescue Stevenage franchisee, Keith Harrison for picking up GOLD WINNER in his category: 'Franchisee of the Year'.
"We are genuinely very proud to be amongst other worthy franchise winners in this category and so our congratulations also extend to, Alexandra Turner of multi-award-winning franchise, 'Tappy Toes', who collected SILVER and to Jackie Hudson of respected franchise, 'Our HR People' who snapped up BRONZE."
Jaime admits the competition was stiff. As a finalist, Keith was shortlisted alongside seven other highly respected franchise brands and their accomplished franchisees. Keith was so certain he was no-where in the running, he carried on with his daily fleet inspections and continued booking in jobs as usual. He was working through his diary, proactively visiting his new and existing Stevenage commercial automotive clients as the awards were being announced.
"I had seen the list of franchisee finalists I was grouped with," Keith said, "all accomplished franchise brands and franchisees in so many ways and I honestly thought I didn't stand a chance! So, I carried on with my daily client visits and added more jobs into my diary. It was franchisor, Amanda [Hilario] who broke the news to me. When she rang me, I was totally gob-smacked. I even asked her if she was sure it was me that had won!
As the news sank in, Keith told Amanda, "There is no way I would have won this prestigious award without the help and support of you and [franchisor] Jaime, Wendy and the franchise support team at head office. It is a genuine team effort, and we all deserve to share this – it's not just me."
Amanda added, "Keith is such a deserving GOLD winner and this coveted category is testament of how robust the Screen Rescue franchise model is. With our award-winning franchisee support, there is so much franchisee, Keith Harrison has achieved in his first year of trading.
"We are especially proud Keith has grown his client base in year one from zero to 80+ commercial automotive clients just by following our proven franchise model, specifically designed to fast-track you into business. Not only can you earn from day one but with our unique strategy of winning repeat business clients, you can forecast your sales revenues and profits for months and years ahead.
"Despite facing three lockdowns in his first year, Keith worked hard to keep his franchise on track against his business plan. So much so his business is booming, and he has been able to award himself a good pay rise."
If you want to become an award-winning franchisee just like Keith, get in touch with the Screen Rescue office team.
Why not start your Screen Rescue journey into business today?