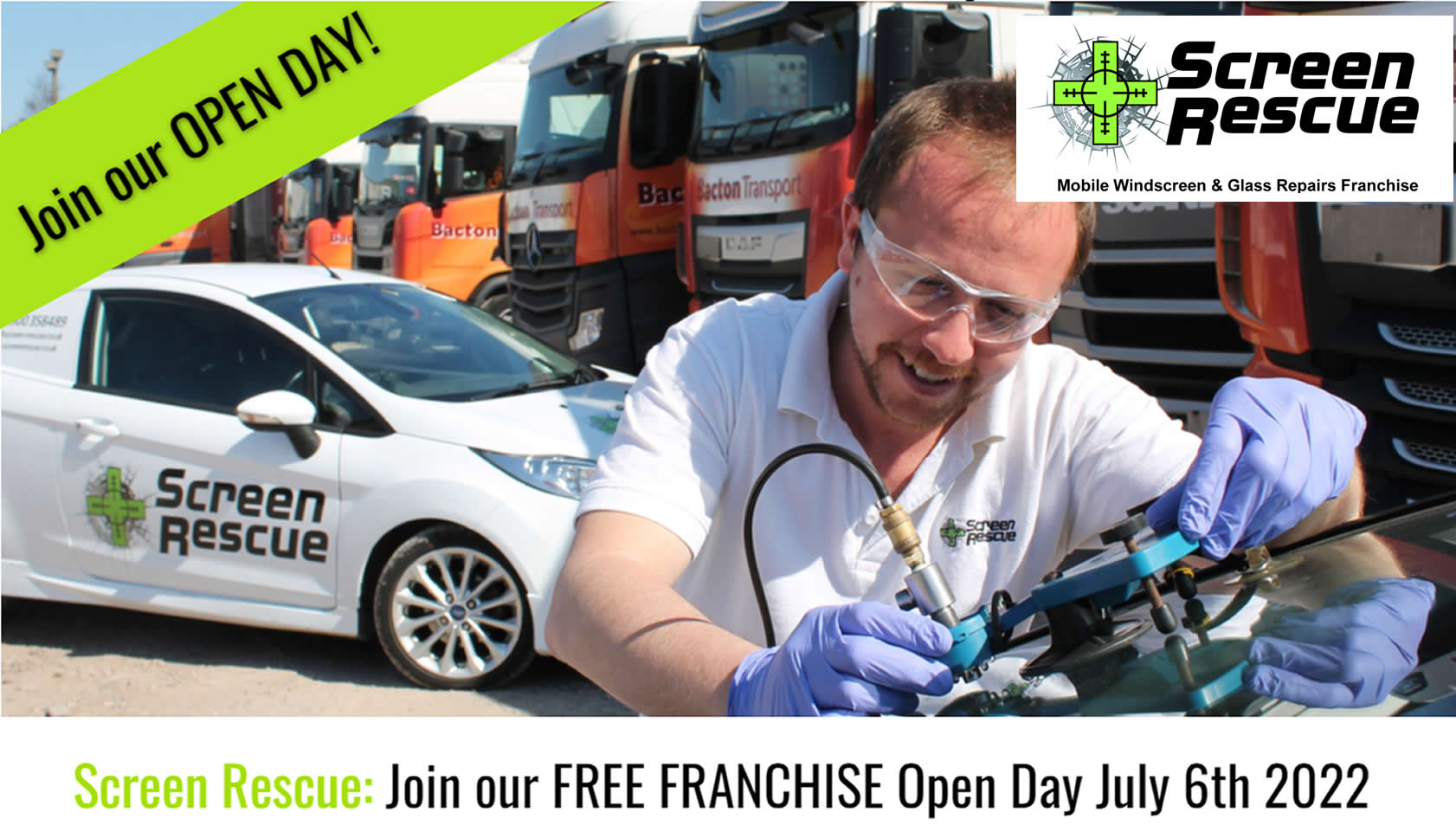 Screen Rescue announces they are holding a FREE Franchise Open Day at the Cambridge Belfry, Cambourne Cambridge on Wednesday 6th July 2022.
Jaime Hilario, founder, and franchisor of Screen Rescue is delighted to announce both franchisors are hosting a FREE Franchise Open Day at the Cambridge Belfry, Cambourne, Cambridge on Wednesday 6th July 2022.
Screen Rescue are now recruiting franchisees in your local area. Jaime says, "We are looking for ambitious individuals with the drive and energy to build and grow a strong local business to fulfil a strategic franchise growth plan across the UK.
"Full training and award-winning franchise support is provided in all areas of the business, so no previous experience is required." 
Screen Rescue is a low-cost, highly profitable, multi-van-based windscreen and glass repairs franchise offering franchisees from all walks of life the potential to earn a turnover in excess of £75k per operating van, per year.
Operating solely in all commercial automotive sectors, franchisees visit their clients on a regular and reliable basis to carry out a wide range of windscreen and glass repairs. Franchisees are very quickly able to build long-term strong relationships with their clients, which sees their franchise fast becoming a trusted and valued part of their local business community.
"If you enjoy working in a fast-paced environment and you love dealing with people at all levels while building strong long-term commercial business relationships, Jaime says, "and you are ready to take control of your future, then join our open day event!"
Screen Rescue are now recruiting franchisees for the following large exclusive territories:
CAMBRIDGE
PETERBOROUGH
LEICESTER
BIRMINGHAM
COVENTRY
NORTHAMPTON
MILTON KEYNES
OXFORD
READING
"Our Open Day takes place on Wednesday 6th July 2022 at The Cambridge Belfry, Cambourne in Cambridge," says Amanda Hilario, founder-franchisor.
"Throughout the day, 90-minute discovery sessions will be taking place, where we are offering individuals keen on joining Screen Rescue a greater insight into the industry and a unique chance to learn more about this growing franchise opportunity."
Screen Rescue is the only award-winning franchise to operate in the thriving Commercial Automotive Industry, now worth £49bn to the UK economy.
Amanda adds, "This is a great opportunity, and one not to be missed as franchisor, Jaime Hilario will be demonstrating the technologically advanced repair equipment you'll be using as a franchisee.
"This patented equipment not only simplifies the repair process of challenging damages our competitors must walk away from, but the technological system also activates a faster curing time, which enables franchisees to carry out repairs faster and with greater efficiently.
"You're also welcome to bring along a partner or family member. Places are strictly limited, so to avoid disappointment, click below to book your attendance." 
During each discovery session, you have the opportunity to meet both founder franchisors and ask any questions you may have one-on-one.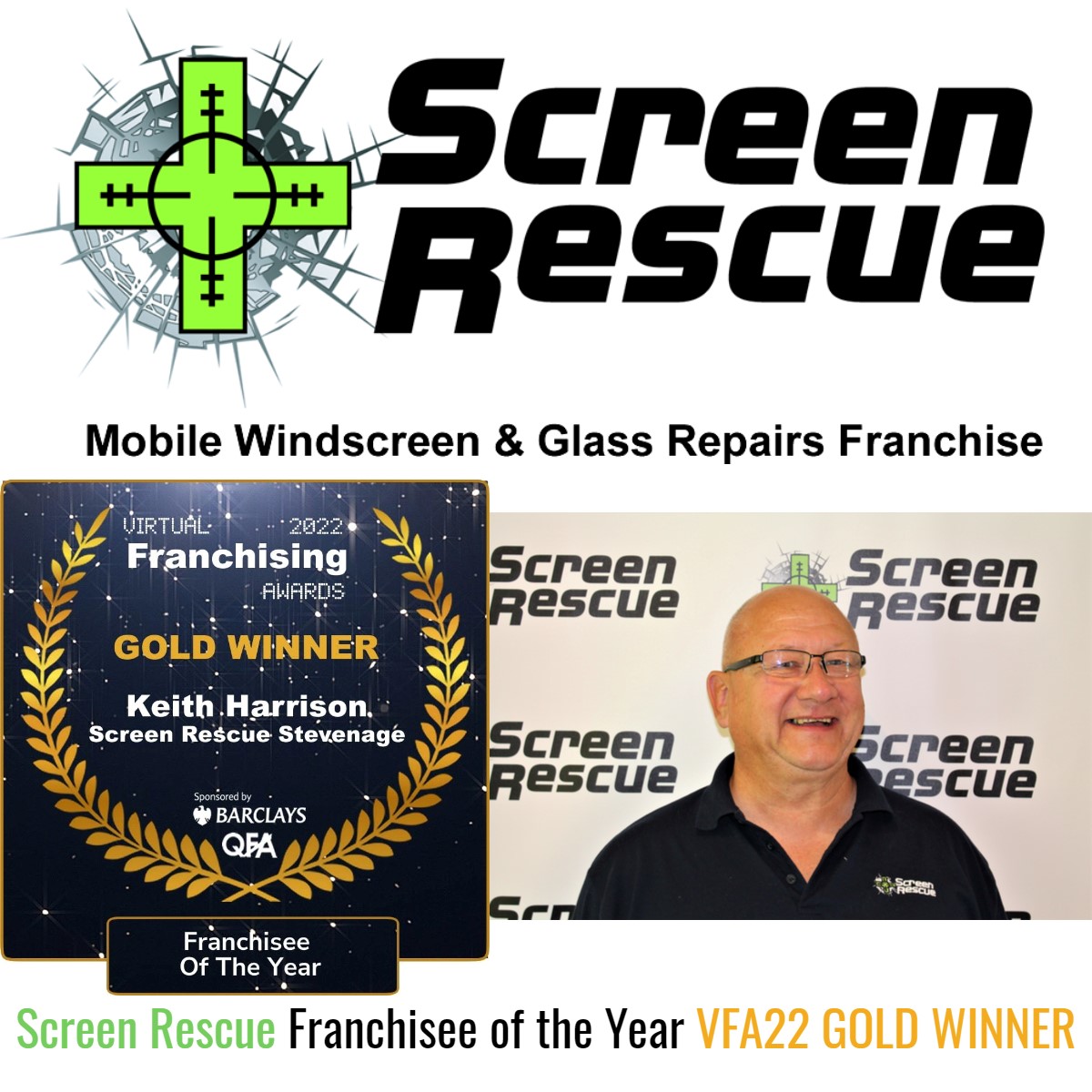 "From the start, I was attracted to the level of training and ongoing support you get with Screen Rescue, and I could see the scalable potential of the franchise. I had total confidence in the professional way the franchisors assisted me with my business plan and my tailored financial forecast and found it was a straightforward process to raise the funds I needed for my working capital.
"It was also reassuring to see the way the franchisors handled the legal company set-up with the accountants, which helped take some of the worry out of starting my new franchise as I had never run a substantial business before.
"All-in-all, it was the one-to-one franchisor training, ongoing support, and unlimited guidance I was offered that gave me the extra confidence to proceed."
Keith Harrison, Screen Rescue, Stevenage
GOLD WINNER VFA22 'Franchisee of the Year'
If you'd like to learn more about the Screen Rescue franchise, meet the team and get an insight into the franchise model and the repairs process, why not join this not to be missed, Screen Rescue franchise Open Day on Wednesday 6th July 2022? 90-minute sessions run from 9.30 until 5.30 so select a slot that suits you, but hurry, as places are strictly limited!
Learn more about the Screen Rescue franchise or register for the open day on their website https://www.screenrescue.co.uk/open-day-booking-form