Discover rewarding franchise management opportunities with one of the UK's leading drain care and maintenance companies
Drainage in the UK is a multi-billion pound, highly profitable sector with demand 365 days of the year, 24 hours a day.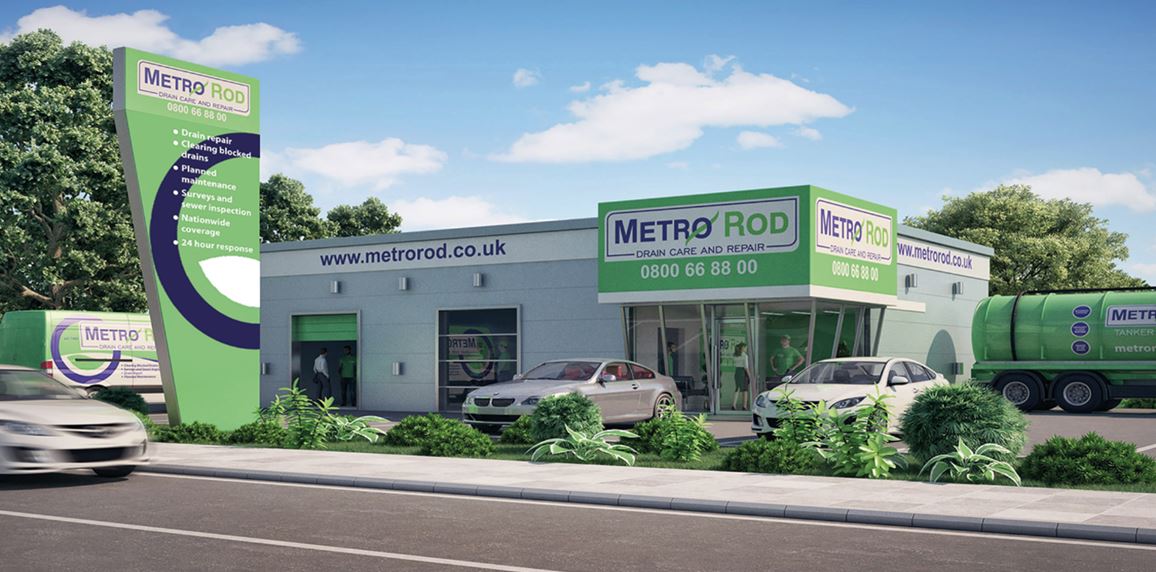 Investing in a Metro Rod franchise means you can build from an established customer base, with ongoing revenue, a fleet of vehicles, associated equipment and trained staff. We have a high demand for our services nationwide and currently only have 40 franchises servicing our clients across the whole of the UK, we are looking for ambitious, hard-working, commercially aware individuals that are looking to run their own business via our Franchise model to help us keep up with this demand.
Founded in 1983, Metro Rod is a leading provider of drain clearance and maintenance services, we have been clearing and unblocking drains for more than thirty years and we're proud of our reputation for quality service and customer satisfaction. Major companies and leading high street names trust us to deal with all their regular drain maintenance and we bring the same high standards to our individual residential customers too. Our company is based on the belief that our customers' needs are of the utmost importance. Our entire team is committed to meeting those needs.
As a result, a high percentage of our business is from repeat customers and referrals. You will benefit from a history of satisfied customers and a well-respected brand name. Metro Rod serves national business customers across multiple sectors including facilities management, retail, water utilities, social housing, hospitality and insurance, as well as local businesses and other customers in the private and public sectors.

A focus of Metro Rod is to provide a 24/7/365 emergency response service to customers through its operating model of National Accounts and local Accounts. We are able to do this because of the large support centre team we have in place, as one of our franchisees you will have a team supporting you from training, business set up, marketing, processing quotes, handling enquires to accounts including invoicing and payment collection. Our support centre team handles more than 15,000 calls and 8,000 emails per month serving customers and providing work for our network of franchisees. Our excellent reputation and long list of satisfied clients are strong indicators of our attention to detail, clear communication, honesty and integrity.
Metro Rod's and soon to be your specialist services include:
Drain Clearance and Maintenance
High pressure water Jetting
CCTV surveys
Drain or Sewer Lining
Excavation
Electro mechanical cleaning and fat and grease management.
Benefits of being a Metro Rod Franchisee
No prior experience of drainage necessary. Our hugely experienced technical team offer full training to get you started and stay with you using our tried and tested support programme.
Sales and marketing support – websites, advertising and a full brand pack of materials plus our Metro Rod's support centre team assist franchisees in new business generation through their dedicated national accounts team.
Being part of Franchise Brands means that Metro Rod franchisees can also benefit from the Franchise Brands marketing centre of excellence, a team of experienced and knowledgeable marketing professionals who work on national brand awareness campaigns with some of the world's best media agencies.
Our support centre invoicing and credit control function deal with invoicing, payment collection and debtors on your behalf, so that you can focus on growing your business.
In-house call centre team working 24/7 365 days a year processing enquiries and quotations.
Approximately 80 per cent. of the services are provided on a reactive basis. In the last two years Metro Rod have completed over £70m worth of jobs, so there's nothing our service engineers haven't seen! However, as a franchisee not only will you benefit from all the work, we channel through to you, plus pre planned maintenance contracts you will also be able to service your own local portfolio of customers becoming their local hero.
Cost and Earning Potential
Metro Rod offer several ways that you can join the business. The minimum investment for a Metro Rod franchise is approximately £100k. If you have funds to invest, we have relationships with some of the major banks with our proven track record and financial supporting data loans of 70% are possible
For hard working and dedicated franchisees, the Metro Rod franchise model can generate a fantastic earning potential. A large proportion of our franchisee's turnover in excess of £1m per year. The Metro Rod franchise model is a proven success that has remained resilient against recession.
Our emergency repair services and regular drain maintenance contracts have kept Metro Rod franchisees busy, regardless of the state of the economy. Metro Rod is the ideal franchise opportunity for committed individuals who have management or small business operation experience; you don't need to be a drainage expert, as we provide you with all the training you need to run your own successful drain care business.
We have been members of the British Franchising Association (BFA) since 1997 and have won a number of national awards with them. As well as winning Franchisor of the Year in 2003, in 2016, two of our franchisees were named Young Franchisee of the Year and Female Franchisee of the Year. We have a commitment to health and safety and this is reflected in our accreditations. RoSPA (The Royal Society for the Prevention of Accidents) also awarded us the Gold Medal for the 8th consecutive year.


If this sounds like the type of brand you would like to be associated with, please click below to make an enquiry.