About Burger & Sauce
Burger & Sauce was launched successfully in 2020 at the height of the Pandemic. We now have four franchised stores with six more due to open before the end of 2022 all offering eat-in, takeaway or delivery. All four stores are comfortably trading above expectations, and all the franchisees currently trading are opening additional sites. Our goal is to become the house-hold name for fresh burgers in the UK with 300+ restaurants across the nation.
In July 2022 we were named regional winner of Uber Eats Restaurant of the Year 2022 for the Midlands as voted for by customers.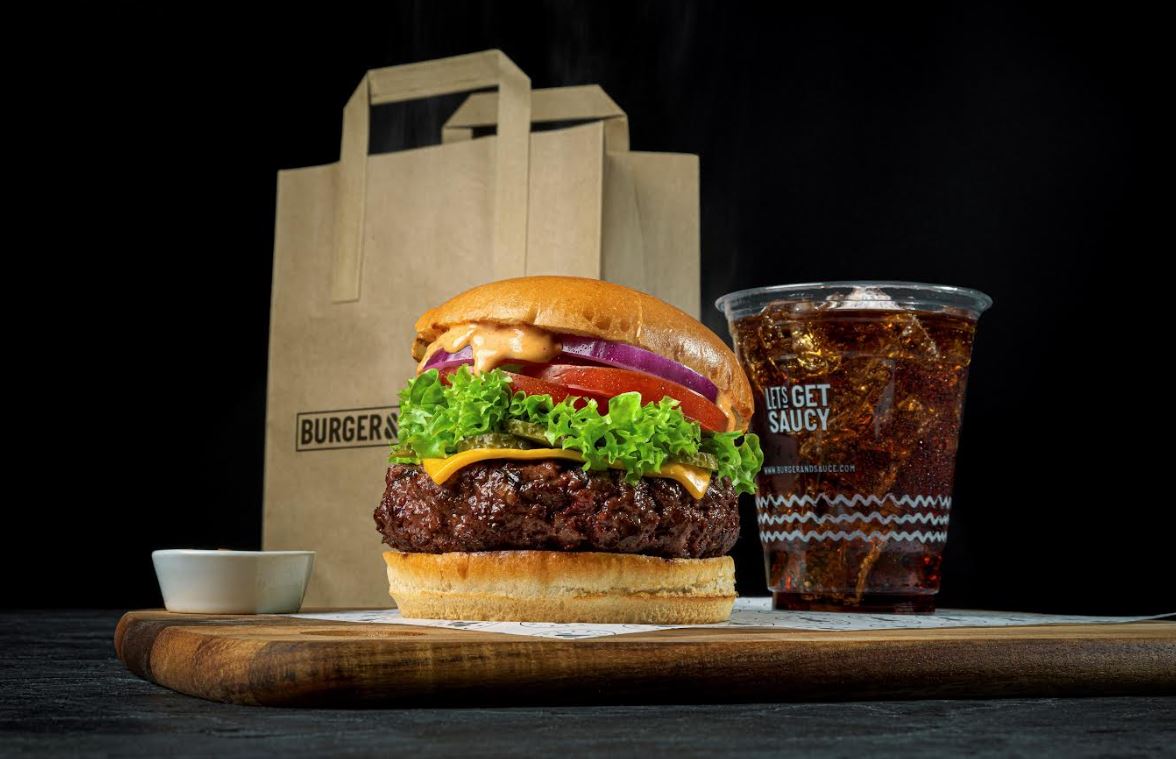 The Burger & Sauce brand is built upon two fundamental foundations: Fresh and Simple. Our motto is Fresh, Fresh, Fresh! The majority of burger brands are either complicated or aren't as fresh as they claim. Burger & Sauce prides its offering on being as fresh as you can get by only preparing the food when it is ordered and having the simplest menu. Three original burgers and three homemade sauces along with a small variety of fries makes customer choice easy. This also allows ordering times to decrease making the process more efficient.
Our operating model harnesses the very latest technology for total efficiency, from our instore state-of-the-art EPOS system to boost both sales and brand awareness, to the tech we use to organise kitchen orders and automate delivery traceability of all our ingredients.
We also have strong partnerships with UberEATS for the convenience of our customers and also to open up the market for our franchisees.
Franchise Details
Exclusive Burger & Sauce territories are available throughout the UK although we are currently inviting applications from enthusiastic franchisees looking to help us grow the Burger & Sauce brand within 2 hours' drive of the Midlands.
The investment level for a Burger & Sauce franchise is typically around 200-450K depending on circumstances and the type of unit. This is made up of £15K franchisee fee plus 5% management fee and 1% marketing contribution plus store rent and fit out.
We offer multi-site franchise options for the right franchise candidates. For example: Subhan Munir bought his first franchised Burger & Sauce store in Birmingham in 2020. Within a year he had turned over £1.5 million, and he has already agreed to open four more restaurants.
Ideally, we are looking for franchisees with management or food trade experience who are committed to engaging with the DNA of our brand. They should be focused customer service excellence and inclusive staff management, as this is what makes our business work so well. They should also be passionate about food quality and standards and open to enhancements in the operating model as we develop and expand. Potential franchisees should also be comfortable and enjoy working with numbers as understanding and operating a P&L is an important part of the role.
Why Burger & Sauce?
Burger & Sauce is a unique concept, providing fresh, hand made burgers. The freshness and convenience of our food has taken the market by storm! We combine the highest quality product with an efficient operating model and top-quality marketing while taking advantage of the latest technology for seamless operation. This management franchise also presents the chance to grow a through investment in multi-site stores offering significant opportunities for the right franchise candidates.
We offer a full turnkey model where we provide assistance in restaurant location and fit out in addition to full training, launch and audit support.